i may have mentioned once or twice that i am a visual merchandiser by trade. before becoming a momma, i worked for a high-end home furnishings retailer in every capacity from part-time christmas sales help to merchandising manager at a flagship store. (where i learned
how to fold a killer towel
).
along the way, i figured out how the retail system can work on your behalf to get you the very best deals. it's all about timing, and not being afraid to ask.
here are some trade secrets of retailers that can lead to big discounts on the pieces you've got your eye on:
1. floor samples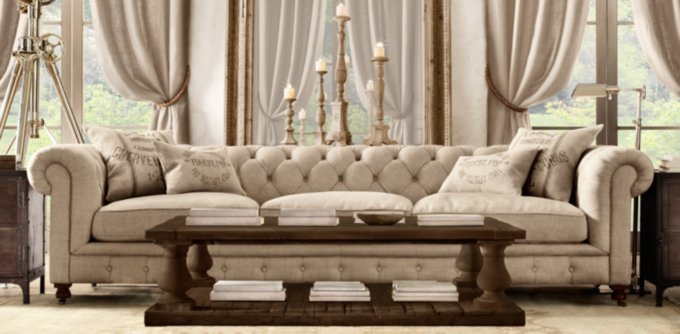 every season, stores get new furniture to show on their sales floor. at the end of that season, many of those pieces are sold off at big discounts to clear the floor for what's next. you can often see 30-60% off a piece during this time. the furniture can sometimes have a ding or two, but typically it is in great shape as it was only shown for a couple months. these go fast, so here's how to be the one who scores the deal:
~ if there's a piece you like, ask a sales associate
before
it's being cleared off the floor to call you when it does become a floor sample. when the time comes, they
love
having an immediate buyer.
~ it's a timing game. when the piece first goes on sale, it will not be at its deepest discount. you can wait, and if it doesn't sell, they'll reduce the price after a couple weeks. just know it could easily be snatched up by someone else and you'll lose out altogether. if you have your heart set on it, don't wait. whatever the floor sample price, it's cheaper than it used to be!
2. shop in january and july
retail "seasons" start way before the weather is ready to cooperate. they usually set spring by february and fall by august, meaning the months before are time to clear out and get ready. the deepest discounts on everything are in january and july. shop early for the best selection, and shop late for the best deals. expect discounts of 40-75% during this time on merchandise from the previous season. but don't wait too long. i'd say by the third week of january, almost everything is gone.
3. get to know regular sales events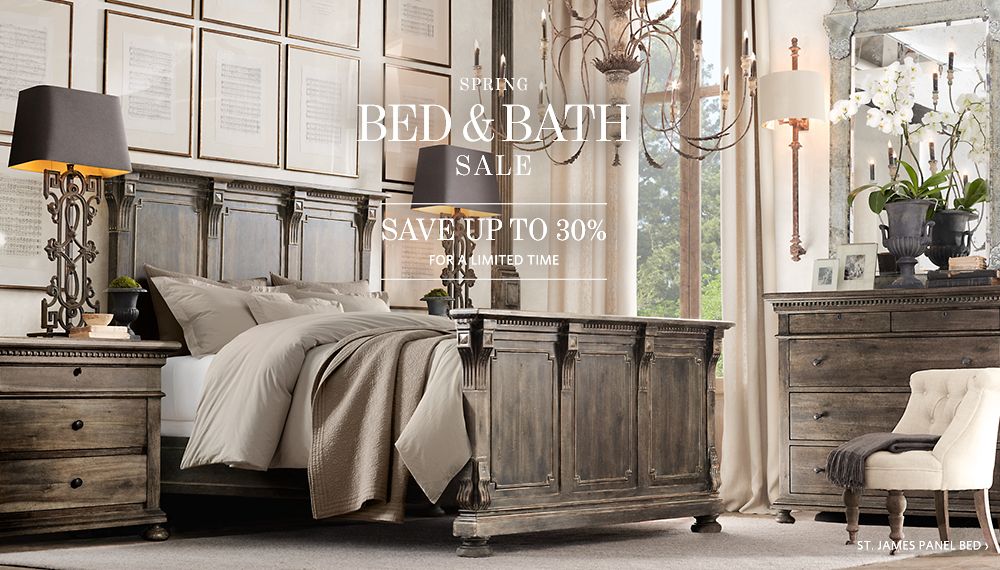 many retailers have annual or semi-annual sales every year. asking a store associate or doing a quick google search will let you know when to shop. for example,
restoration hardware
has a twice-a-year bath event, and the
container store
holds an annual elfa sale. usually these sales will have discounts of around 20%.
4. friends and family sales
these used to be private coupon events where store associates could "share" their employee discounts with their own family and friends. but retailers have caught on to the huge boon to sales these generate, and have started spreading the love. some stores will openly advertise to everyone within shouting distance that they're having an "f&f" sale and hand out coupons at the door. others are still more secretive, but nonetheless very willing to share if asked. hit up a sales associate to put you on the coupon mailing list and she will be happy to oblige. these sales are usually 15-30% off and many happen just before the holidays.
5. rewards card programs
i'm not a huge fan of credit cards, but if you
promise
to pay it off every month, it can be a good way to earn
discounts on your purchases
. for instance,
pottery barn
regularly sends their cardholders a coupon worth $25 off a $50 purchase throughout the year. many stores, such as
target
, also offer 5-10% cash back. read the fine print and especially look into this option if you are considering a large purchase.
6. price changes & price adjustments
it may be helpful for you to know when your favorite store does price changes. this is usually a weekly occurrence. at my store, for instance, mark-downs took effect every wednesday morning. which means if you are shopping tuesday night, it's worth asking if the item you're about to buy will be cheaper in 12 hours. they have the list ahead of time.
if you didn't ask and didn't know and bought something just before it got marked down, you can still get the discount. just go back and ask for a
price adjustment.
almost every store i know will refund you the difference if an item goes on sale within 7 (or so) days of your purchasing it. therefore, it's a good idea to peek back within the next week after buying just in case.
7. make friends
i've alluded to this before, but the sales associate on the floor is your best friend when it comes to finding out about sales. she
wants
to help you get good deals, because it's the right thing to do for a customer, and because it usually means you'll buy more and come back again later.
but there is another reason. companies regularly incent their employees to sell more of a particular item when it's on promotion.
for instance, during december, my store would choose one category of items to place on sale and "push" during each week. let's say the first week was faux wreaths. they'd be on sale for 20% off and the store that sold the most wreaths that week would earn a bonus of some kind. they're called
sales contests
and they happen throughout the year. this means that if an employee knows wreaths are going on sale and going to be part of the contest, she'd
love
to to call you and let you know about the sale. it helps you and it helps her.
now, of course, any employee at my store would be happy to call you when an item went on sale regardless of if it helped us or not, but i say all that for those of you who are too shy to ask. don't be shy. ask! the sales associate will take your name and number and call you when the item you want goes on sale. i had a sales associate do that for me at
j. crew
and it was like the best thing ever! (and if they aren't willing to help you in that manner, shop somewhere else).
hopefullly this was helpful, and hopefully there are no black vans careening up my driveway at this moment to nab me for retail treason.
{images via
restoration hardware
,
sugar paper
,
restoration hardware
,
style notes
,
j.crew
,
pinterest
, and
magazyn
}